Special events on location 
"Delight your senses, calm your soul and open your heart to a deeper connection"
Date: Next date TBC
Time: TBC
You will be taken on a journey through improvised piano performance and unscripted guided meditation by candle light, enjoy seasonal herb infused beverages and moon lit conversation around a fire pit. Delight your senses, calm your soul and open your heart to a deeper connection. 
Jacob Smith is a versatile composer and pianist based in Cornwall. He works in a broad range of genres, including Classical, Jazz, Experimental, and Electronic music. His dramatic and cinematic compositions are a blend of organic and synthetic elements which create a truly unique sound, with the aim to always touch the emotions of the listener.
Boconnoc House is tucked away down two miles of private roads. The family house is 18th century and has been restored over the last 12 years. It is surrounded by deer park and woodland with beautiful views down the valley to the lake. Once you arrive there is total peace and tranquility.
Joey Hulin is a writer, meditation facilitator and retreat host based in Cornwall. The down to earth, soulful words, meditations and retreats she creates and shares carry the very simple intention to help people pause, soften and come home to their true essence. 
Pentire Drinks offer botanical non-alcholic spirits, made from unique plants from the Cornish coastline and inspired by coastal living.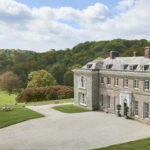 Ticket are £25 plus a small booking fee and are non-refundable after 7 days before the event.