January is the perfect time to immerse ourselves in creative and soul rich practices. Meditation is a foundational practice from which creativity, truth, love and joy can be expressed and received, as well as supporting our mental and physical health throughout the year. Writing poetry can be soul expression, and in my experiences it is a form of therapy and connection.
This January I am delighted to hold space for two month long workshops; one with a focus on delving into, playing with and embedding a meditation practice; the second exploring writing and poetry as a spiritual and therapeutic practice.
All levels of experience, knowledge and practice welcome – we'll meet on this course a curious and compassionate equals. Both courses will take place on Zoom, with the weekly live sessions lasting one hour.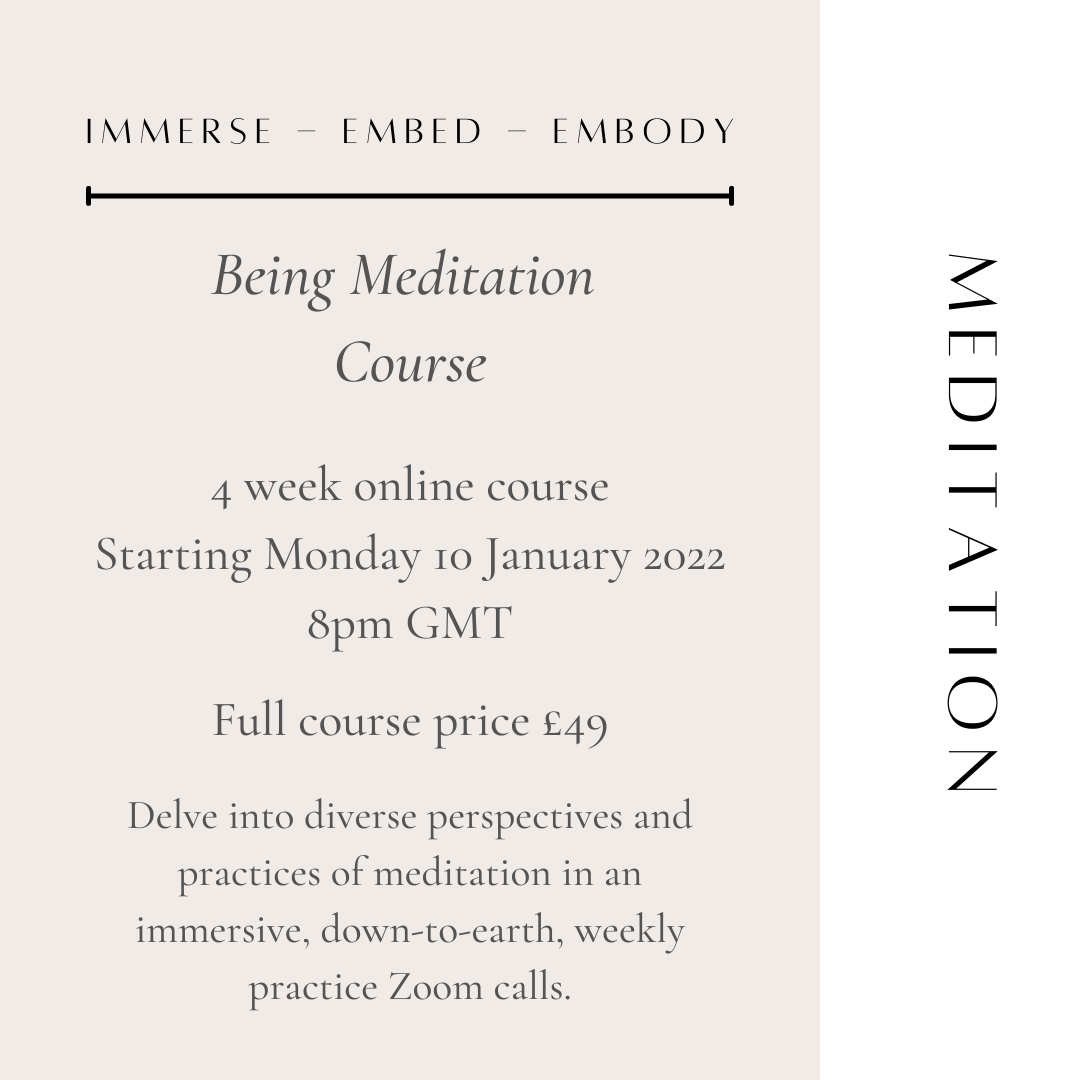 Being Meditation
---
Being Meditation Course
A 4 week meditation course, suitable for anyone wishing to delve into and practice various different meditation perspectives and practices. This course will help you untangle the what, how and why of meditation, and live it.
Weekly live themed Zoom calls
Starting Monday 10 January, completing on Monday 31 January
8pm GMT (1 hour)
4 x Live meditation practices, Q&A and community sessions
Delving into varied practices, with support and guidance on embedding and embodying meditation.
Soul Words
---
Poetry as Meditation course
A 4 week course exploring poetry and writing as a spiritual and therapeutic practice. Each session holds a different theme, writing prompts and meditations to allow you to reconnect and words to pour through.
Weekly live Zoom calls
Starting Wednesday 12 January, completing on Wednesday 2 February
8pm GMT (1 hour)
4 x live writing workshops, Q&A and community sessions
Weekly themes and writing prompts, exploring poetry and writing as a spiritual practice.
Registration closes for both workshops on Monday 3rd January. Get in touch with any questions by emailing: [email protected].