Joey Hulin Author | I created Horizon Inspired to offer down-to-earth, calm and impactful meditation support, written inspiration and immersive experiences, to help you pause and reconnect – to your heart and the present moment. I live and breathe the musings I share and promise to only write or speak about that which I have had direct experience of.
Writing is my passion and I revel in the process. My first book Your Spiritual Almanac – A Year of Living Mindfully was published on 2 September 2021. My second book Mind and Bowl – A Simple Guide to Mindful Eating will be published on 24 February 2022.
My intention is to create calm, kind and meaningful opportunities for you to pause and reconnect; whether that's through reading a book, blog or article, a guided meditation or joining one of our delicious, soul nourishing retreats. My wish is for you to remember – you are already enough.
The Retreat Team
The retreat team is composed of local holistic health professionals, each with their own unique gifts which they have each been put on this earth to share! They weave presence, individuality, kindness and in-depth knowledge into their practice and offerings. I would obviously say this but it couldn't be more true; they are the kindest, most authentic, approachable, warm group of people and it is an honour to work along side them.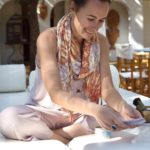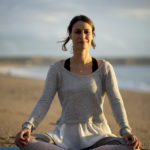 Massage & Holistic Therapists 
Tia Tamblyn (Tia Tamblyn Massage), Lisa Allen (Lisa Allen Holistic Therapies), Kirsten Baker (Cornish Holistic Therapies) and Linda Shabtai (Reflexology and host) all provide body work and energy healing.
They all create the most magical space both energetically and aesthetically for you to bathe in nourishment for body, mind and soul. Alongside offering a range of therapies on various retreats across Cornwall, each own and manage their own treatment spaces in the county too.