I read an article the other day on small space living. Young couples, entrepreneurs and even families opting to trade living in properties with expensive rent or mortgage payments for small, rustic, back to basics spaces.
These last few weeks I've been working on a summer living project much like the stories I was reading in the article. My project involved turning a stand alone, garage/shed with no power supply, no running water with a small, overgrown garden space into a home – and on a shoestring.
The first day I arrived at the 'Shed of Dreams', a 14 foot breezeblock shell divided in half by a stud wall, one half was full of junk and well settled in creepy crawlies the other featured a rotten wooden framed glass door, a concrete floor and breeze block walls, with just a scattering of junk; it looked like a daunting task.
It was an overcast day. The grass in the garden was above knee height and the chestnut tree, just outside of the glass doors, had reached its way across blocking any light from entering.
I dusted off a chair and sat for a minute, with the doors to the jungle garden open and an apprehensive looking pup at my feet.
The owners, a friends' parents, told stories when I'd first looked around of Great Aunt Pam who'd loved the garden when she was alive. She had owned the house that the garage had once belonged to but they had since sold it on; keeping the garage and joining triangular garden, that is separated from the house by a narrow country road, for it's sentimental value. My friend relayed stories of fishing for newts in the barely visible pond at the bottom of the garden when she was young.
I just sat there. Intense feelings were bubbling up and I allowed myself to feel. Overwhelm, nerves, optimism. I could see it's beauty beyond the weeds but getting going felt like such a feat.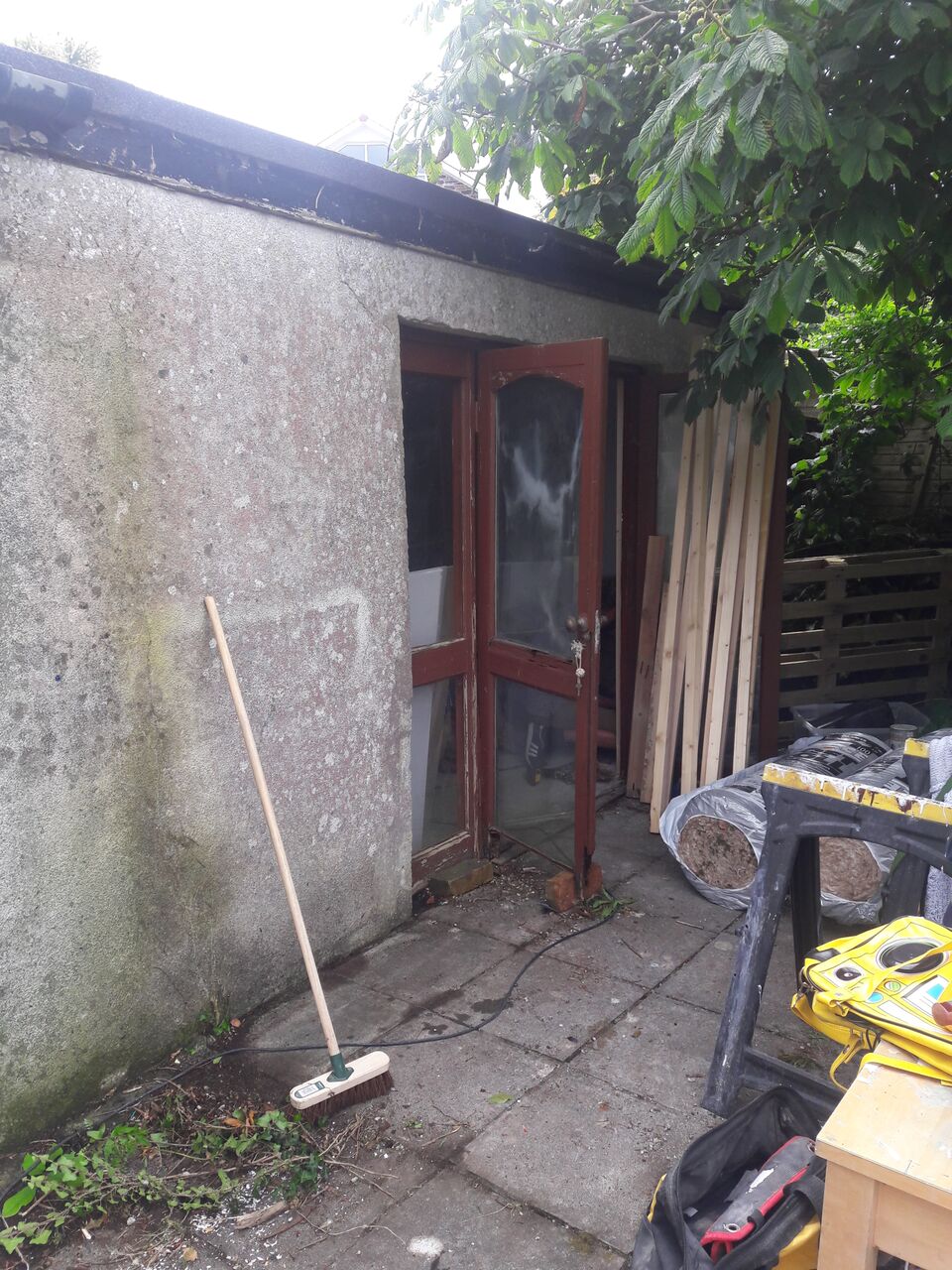 The first couple of days my best friend and her boyfriend came to help me get started, teaching me how to plasterboard and use a drill as we went. It was hard graft and a long couple of days and the mountain to climb still felt more overwhelming than fun. Unfortunately, their trip was cut short due to a family crisis with them rightly downing tools and leaving in a hurry.
All of a sudden I found myself tired, dirty, in a half boarded shed with nowhere else to call home, feeling way out my depth and completely overwhelmed. Sat alone on the concrete floor, surrounded by dust, timber and fresh smelling plasterboard, I cried.
My ego was LOUD. What the fuck am I doing? How the fuck was I ever going to turn it into a liveable space, on my own? What will I do if I can't make it work? What do people think of me? How was I going to finish off even this first little bit, let alone tackle the rest… then live in it?
Moments later. It was almost as if I heard the loud bellowing voice of a beloved family friend, Steve, who'd passed away in the summer of last year, say 'Oh for goodness sake. Pull yourself together girl. You can bloody well finish it off yourself!'.
I paused and looked up at the half boarded room, dried my cheeks and decided 'Yes I fucking could'.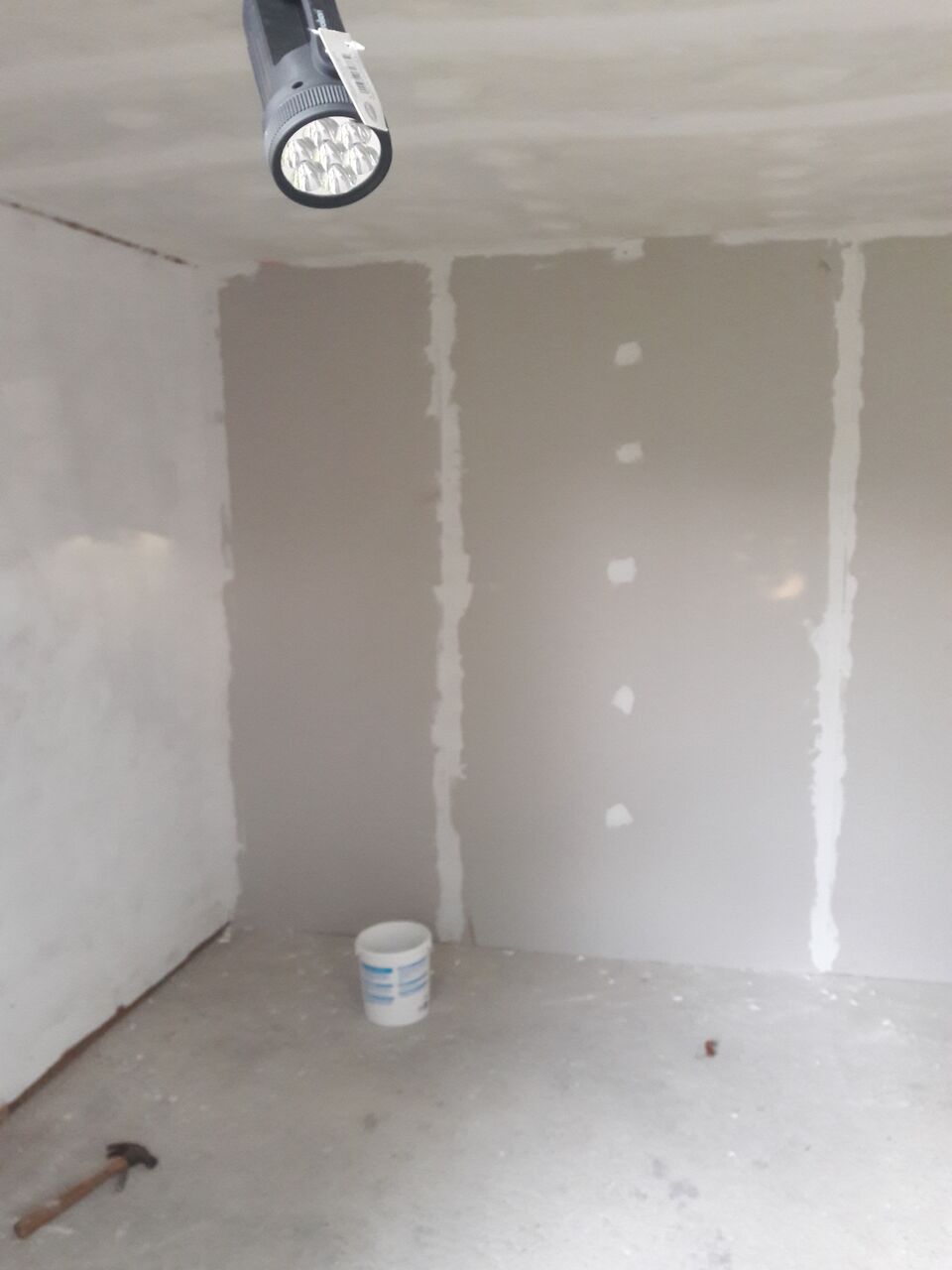 I started by hiring the tools I needed and finished off the walls, filled and painted them. I layed some flooring and started to clear the weeds from the cracks in the patio slabs leading to the garden.
A best friend from uni offered his help and came down armed with tools, carpentry knowledge and enthusiasm and within the space of a week we had grafted to transform the space into a workable living room with a kitchen area and a separate cosy bedroom. I sourced a free sofa from a local buy and sell site, another friend offered up a load of free timber and a small garden shed, which we loaded on top of my mates truck and he later turned into a (now bright and colourful) compost loo! Book shelves and hanging hooks went up. He fixed and I painted the front door, once featuring a rotten gaping hole. I strimmed the garden, weeded the flowerbeds and painted the outside walls.
So much of what I learned on that journey feels like a valuable metaphor for life, one that I guess I needed to learn. It might have been a teeny, tiny project in the grand scheme of things. It might not be perfect now. It might be something someone else would have handled with joy and ease. But for me it was and still is a massive challenge, WAY out my comfort zone, one I am still learning from and one I will never forget.
If you find yourself at the start of something, anything, that feels to you like a fucking jungle to weed, remember…
 Believe in yourself and arm yourself with the right tools. Having the right tools to support you is essential. With belief

in

yourself, self awarenss and compassion

for

yourself and armed with the right tools to support you in your challenge, whatever they might need to be, you

can

do it… that is, if you get on and do it (thanks Steve!)

Accept help or better still, ask for it.

Start somewhere and remember it isn't just about the outcome, it is about the process. Be mindful on the journey and remind yourself, Rome wasn't build in a day!

 

If it feels too overwhelming (it wouldn't be a challenge if it didn't at times) allow yourself to feel but remember 'this too shall pass'.

Nothing

lasts for ever, even the toughest, really shitty bits of any experience.

Get out your head and into your heart. Why are you doing what you're doing? What is driving you/calling you? What is the purpose/vision? Listen your heart, not your ego (what will people think/I can't do this/drama drama) and use that as your guide.
I came home early one Sunday evening after running a weekend retreat in the scorching Cornish sun supporting the strongest, most inspiring women. My heart was full and my body was shattered.
I hung up my bag on the coat hook just inside the now blue framed glass doors, lit the gas stove under the kettle, put some food down for the dog and sat on the sofa looking out on the garden that was, and always is, full of chirpy, mischievous little birds.
Call it glamping, call it rustic living, call it mad; whatever you like. It was in that exact moment I called it home.